Total Myopia Program
Myopia, also known as nearsightedness, is a common refractive error that affects lots of children. Myopia causes distant objects to appear blurry and our team screens for myopia in each child's eye exam. We work with you and explore myopia control methods that can help your kids enjoy clear, healthy vision.
We are also thrilled to announce the "Total Myopia" program! With the "Total Myopia" program, our goal is to refer you to practices with the technology to fit ortho-k lenses, a management method for children with myopia.
Managing myopia starts with consistent eye exams—contact us to schedule an appointment today.
What Is Myopia? (Nearsightedness)
Myopia occurs when the shape of your eye causes light to bend incorrectly, causing images to focus in front of your retina. When this happens, distant objects may appear blurry.
Myopia control is a term used to describe specific management methods aimed at slowing down the progression of myopia. While there isn't a cure, we do offer different myopia control methods for your children.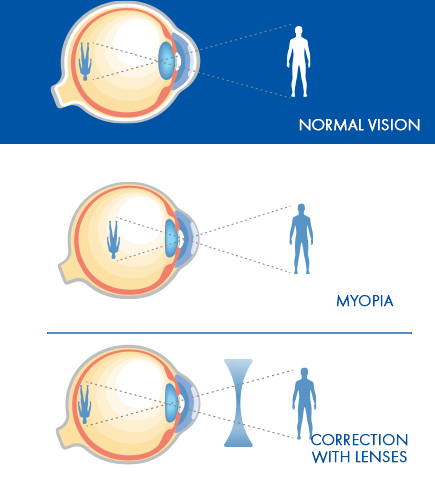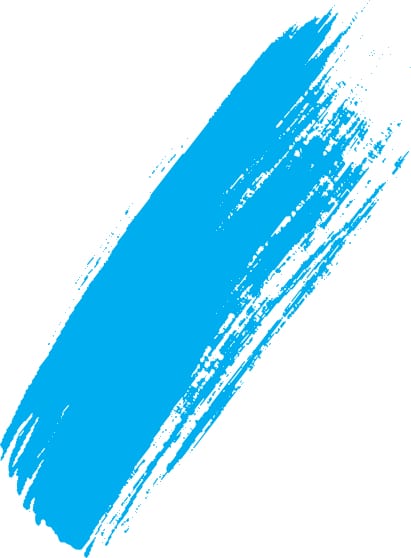 Myopia in Children
Studies show that myopia is becoming more common in children. When your children have trouble with their eyesight, it can impact their daily life, including reading from a distance, seeing the whiteboard at school, and participating in sports and other activities.
At this time, myopia can't be reversed, so the goal of treatment is to prevent it from worsening. Myopia can be managed with control methods such as glasses and contact lenses.
Methods of Myopia Control
We offer a variety of myopia control methods such as contact lenses and atropine drops at Ladera Ranch Optometry. Our optometrists can provide you with information on several methods to help control myopia.
Consistent eye exams are also a crucial part of our myopia control services and help keep our team up-to-date on your child's vision.
MiSight 1 Day Lenses
MiSight 1 day contact lenses, for kids 8–12, are worn daily to improve vision and slow myopia progression. These lenses feature a "dual-focus" design and work by altering how light enters the eye to slow down elongation.
NaturalVue Lenses
NaturalVue myopia control contact lenses help manage the progression of myopia through a Neurofocus Optics design that automatically adjusts focus, providing clear and comfortable vision.
Atropine Eye Drops
Low-dose atropine is a promising treatment method for children with myopia. Studies have shown that a low dose of atropine in eye drop form can help slow myopia progression in children to reduce the risk of severe nearsightedness.
Low-dose atropine drops help by suppressing the eye's growth to slow down the progression of myopia.
Total Myopia for Ortho-k
The "Total Myopia" program is built around getting you and your children the myopia management solutions you need. We refer patients out to other practices that have the technology to fit ortho-k contact lenses with precision and safety in mind.
Axial Length Measurement
Myopia is often linked to the elongation of the eye, known as axial length. Axial length measurements are noninvasive and acts like a growth chart for the eyes that can help predict future myopia progression.
Monitoring the axial length helps us understand the progression of myopia and make informed decisions about what treatment methods can help your kids.
Axial length measurement and myopia control go hand-in-hand. Regular measurement of the axial length can provide valuable information on the progression of myopia and the effectiveness of chosen treatment methods.
Corneal Topographer
A corneal topographer is an instrument used in the orthokeratology (ortho-k) process. It creates a three-dimensional map of the surface of the curvature of the cornea—the outer structure of the eye.
This map helps your optometrist identify if your children are suitable candidates for ortho-k lenses and determine if their eyes have the appropriate shape and health status for the procedure.
Our "Total Myopia" program aims to refer you to practices with the technology to fit ortho-k lenses through corneal topography and axial length measurements.
Help Slow Myopia Progression
At Ladera Ranch Optometry, we're committed to providing your children with high-quality vision care. We offer a safe and comfortable environment and conduct all treatments with compassion and respect. Your kids will very quickly become one of the family!
Please give us a call to book your child's appointment or ask any questions. We're ready with answers about your little ones' eyes.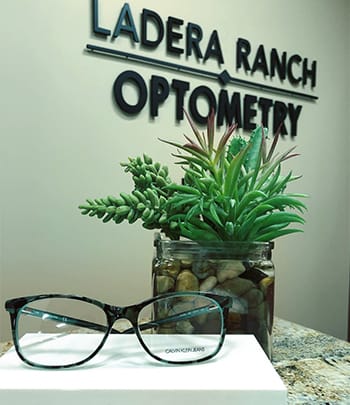 Visit Us
You can find us at the Ladera Corporate Terrace on Corporate Drive, in the same building as Coastal Kids Pediatric. Same day appointments available! Welcoming new patients.
333 Corporate Drive Suite 120

Ladera Ranch

,

CA

92694
Our Hours
Monday

:

8:30 AM

–

5:30 PM

Tuesday

:

8:30 AM

–

5:30 PM

Wednesday

:

8:30 AM

–

5:30 PM

Thursday

:

8:30 AM

–

5:30 PM

Friday

:

8:30 AM

–

5:30 PM

Saturday

:

8:30 AM

–

1:30 PM

Sunday

:

Closed